THELMA PLUM LEADS WINNERS WITH DOUBLE-AWARD AS 2023 QUEENSLAND MUSIC AWARDS CELEBRATES THE BEST OF OUR STATE
Sahara Beck, NEISH and Platonic Sex awarded $45,000 in scholarships supporting artistic and career development
Lindy Morrison of The Go Betweens honored with Lifetime Achievement Award.
Gamilaraay singer-songwriter Thelma Plum was the standout star of the 2023 Queensland Music Awards taking home the coveted Song of the Year and the Pop awards for her single Backseat of My Mind.
Hosted by Katherine Feeney and Kevin Yow Yeh, the evening was a celebration of the music and stories of our state crowning the best musicians across 27 categories to a sold-out audience.
Brisbane indie royalty Ball Park Music were awarded Album of the Year for their seventh studio album Weirder & Weirder before a surprise performance of Stars In My Eyes and Weirder & Weirder. The night also enjoyed performances from Casey Barnes, Hope D, Uncle Bob Wetherall, Katie Noonan, Dameeeela and a show-starting opening number by Sahara Beck.
"From the extraordinary success of established artists like Thelma Plum to emerging artists like Lottie McCleod, these awards are a recognition of the phenomenal music that our artists create. I am always so blown away by the immense talent coming out of our state." said CEO of Queensland Music, Kris Stewart.
It was an incredible night for First Nations women with Sycco taking out the Electronic award for her single Ripple and Central Queensland singer Miiesha receiving the Soul, Funk and RNB award for her single Still Dream.
Nabbing two awards, rising indie icon Yb. won both the Folk category and the triple j Unearthed Emerging Artist of The Year award. Local punks WAAX took out the Rock category for the second consecutive year with their latest single No Doz while DZ Deathrays accepted the Heavy award for their track Paranoid.
Other winners include Menaka Thomasin and mou in the World category with Space, Jen Mize & the Rough 'n' Tumble in Blues and Roots with All Riled Up and rising Brisbane-based rapper Khi'leb in the Hip-Hop category with Cheques.
In the commercial success categories, Gold Coast singer-songwriter and break-out superstar Amy Shark was crowned with Highest Selling Single for Sway My Way while country music legend Casey Barnes received Highest Selling Album for Light It Up.
Local industry icon, and drummer for The Go Betweens, Belinda 'Lindy' Morrison OAM was honored with the Lifetime Achievement Award for her decades of work as an advocate for First Nations people and women in the music industry as well as her outstanding contribution to Queensland music.
Another special moment of the evening was a stunning rendition of 'Devil May Care', performed by Katie Noonan in tribute to devoted Queensland music advocate and 2021 Lifetime Achievement Award winner Lynette Irwin, who passed away in recent weeks.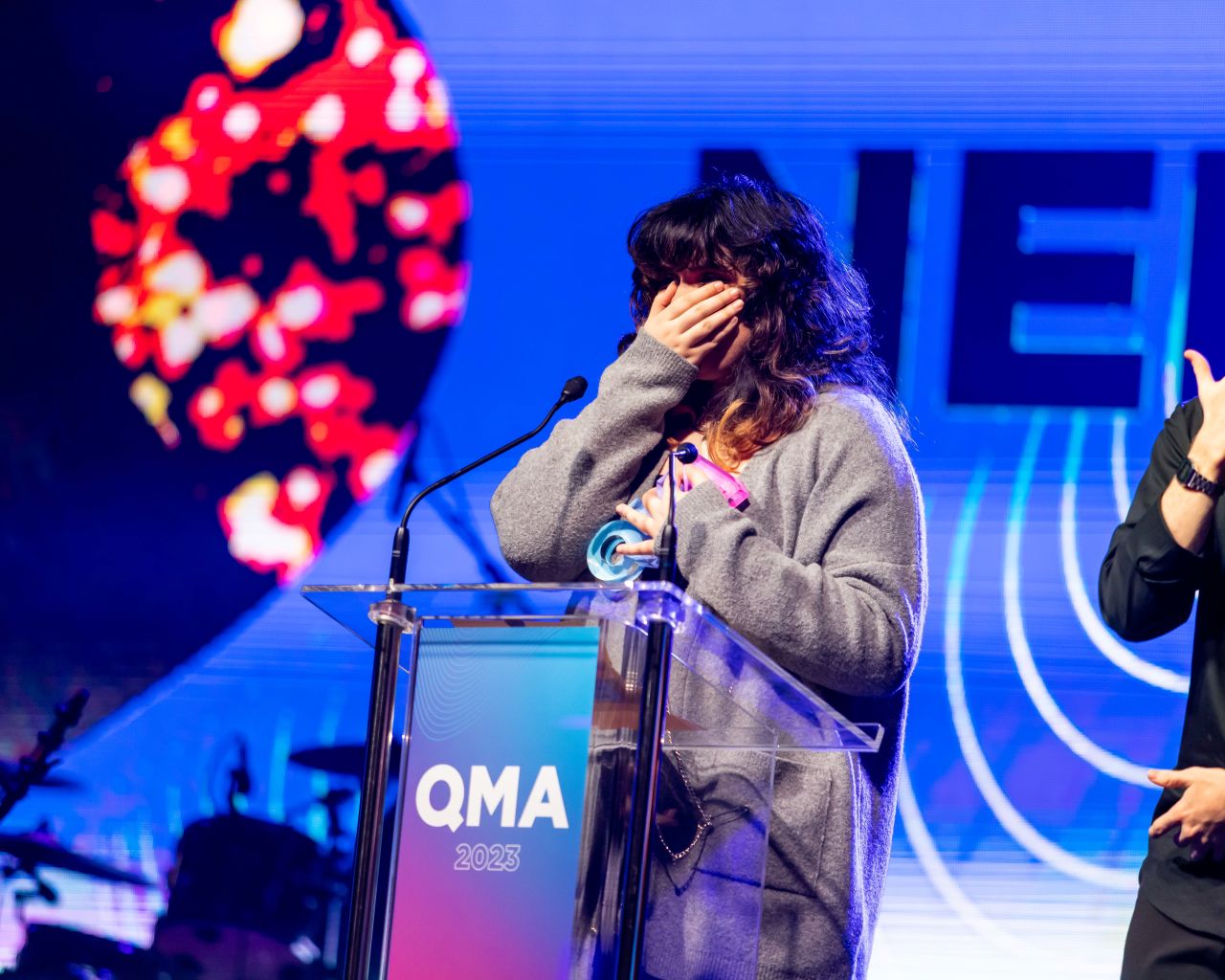 Over $45,000 in scholarships were also awarded throughout the night with Sahara Beck securing the Grant McLennan Fellowship for which she will receive $15,000 to travel to New York, London, or Berlin and be immersed in their vibrant music culture.

NEISH received the Billy Thorpe Scholarship earning $15,000 to the emerging artist record their next release with an established producer alongside career planning from industry juggernaut Chugg Entertainment.

The Carol Lloyd Award to support emerging female identifying or non-binary to record a full-length album or tour an EP was awarded to sun-bleached rockers Platonic Sex.

In the People Choice Award category, sponsored by Oztix and The Music, The Fortitude Music Hall was announced as Metro Venue of the Year and Tanks Art Centre was awarded Regional venue of the Year. Caloundra Music Festival was crowned Festival of the Year and the inaugural Accessible Venue of the Year was awarded to Kingston Butter Factory.
2023 Queensland Music Awards - Winners
MAJOR AWARDS
SONG OF THE YEAR
Presented by Brick Lane Brewing
Thelma Plum
ALBUM OF THE YEAR
Presented by Brisbane City Council
Ball Park Music - 'Weirder & Weirder'
LIFETIME ACHIEVEMENT AWARD
Presented by Grant Thornton
Lindy Morrison
SCHOLARSHIPS
2023 GRANT MCLENNAN FELLOWSHIP
Sahara Beck
2023 BILLY THORPE SCHOLARSHIP
NEISH
2023 CAROL LLOYD AWARD
Platonic Sex
CATEGORY AWARDS
BLUES | ROOTS AWARD
Presented by Trentham Estate
Jen Mize & The Rough N' Tumble - 'All Riled Up'
CHILDREN'S MUSIC AWARD
Presented by The Truss Company
Cheeky Monkey Club - 'Yes or No - A Song About Consent'
CONTEMPORARY CLASSICAL AWARD
Presented by Queensland Conservatorium – Griffith University
Monique Clare - 'Downhill Skiing'
COUNTRY AWARD P
resented by ABC Radio Brisbane
James Johnston - 'COUNTRY BOYS'
ELECTRONIC AWARD
Presented by The Prince Consort
Sycco - 'Ripple'
FOLK AWARD
Presented by APRA AMCOS
Yb. - 'Blackphemy'
HEAVY AWARD
Presented by IJS
DZ Deathrays - 'Paranoid'
HIP HOP AWARD
Presented by NAFA
Khi'leb - 'Cheques'
INDIGENOUS AWARD
Presented by Anacta
William Barton - 'Kalkani'
JAZZ AWARD
Presented by Jazz Music Institute
Trichotomy - 'Forward Motion'
POP AWARD
Presented by Star Entertainment Group
Thelma Plum - 'Backseat Of My Mind'
ROCK AWARD
Presented by The Comiskey Group
WAAX - 'No Doz'
YOUTH (AGES 10 – 17) AWARD
Presented by SAE
Lottie McLeod - 'Happy Birthday'
SOUL | FUNK | RNB AWARD
Presented by The Sound Garden
Miiesha - 'Still Dream'
WORLD AWARD
Presented by MEAA
mou and Menaka Thomas - 'Space'
REGIONAL | REGIONAL AWARD
Presented by Telstra
Sahara Beck - 'Nothing Wrong With That
VIDEO AWARD
Presented by Creative Productions
Ben Wrigley - Purple Static by Mirrors
HIGHEST SELLING SINGLE
Amy Shark - Sway My Way
HIGHEST SELLING ALBUM
Casey Barnes - Light It Up
PEOPLE'S CHOICE AWARDS
METRO VENUE OF THE YEAR
Presented by Oztix and The Music
The Fortitude Music Hall
REGIONAL VENUE OF THE YEAR
Presented by Oztix and The Music
Solbar
FESTIVAL OF THE YEAR
Presented by Oztix and The Music
Caloundra Music Festival
ACCESSIBLE VENUE OF THE YEAR
Presented by CPL - Choice, Passion, Life
Kingston Butter Factory