#2024 Applications Are Open!
The annual $15,000 Dennis 'Mop' Conlon Scholarship provides the opportunity for an emerging Indigenous Queensland musician or band to develop and record a song or series of songs, to support and develop their ongoing career in the music industry.

This Dennis 'Mop' Conlon Scholarship is in recognition of the enormous contribution Uncle Mop made to the so-called Queensland and so-called Australian music industries and will be awarded annually at the Queensland Music Awards.
If you have any questions regarding the Dennis 'Mop' Conlon Scholarship please check the guidelines.
View the full guidelines HERE. For any other questions please contact QMusic at info@qmusic.com.au (07) 3257 0013.
Applications close 11:59pm Thursday, 11 January 2024.

be able to provide a confirmation of Aboriginality to confirm Indigenous identity through: being of Aboriginal or Torres Strait Islander descent, identifying as an Aboriginal or Torres Strait Islander person or being accepted as such by the community in which you live, or formerly lived.
be at least 18 years of age on January 1, 2023
be an Australian citizen or permanent resident
have resided in Queensland for at least two years prior to the due date of applications. (You may be asked to provide proof of your Queensland residency status during the eligibility check process.)
have satisfied the reporting requirements of any previous Arts Queensland grants and
have an ABN
APPLY NOW
Dennis 'Mop' Conlon, who is widely regarded as the 'King of Murri Country' grew up in Cherbourg and learnt how to play music naturally. His talents were recognised early on in life and Mop dedicated much of his life to music and writing songs.
He started a band under the name Dennis and the Magpies which was renamed Mop and the Dropouts. The songs "Brisbane Blacks" and "Racial Discrimination" were songs written regarding social conscience and the realities facing Aboriginal and Torres Strait Islander people and their plight.
These songs were quickly embraced by the Aboriginal and Torres Strait Islander people of South East Queensland and became the soundtrack of the social and political struggles gripping the region at the time.
Mop never set out to write a powerful political song, but "Brisbane Blacks" became an anthem, playing over the loudspeakers while the government-house gates were torn down against the backdrop of the 12th Commonwealth Games protests.
"Brisbane Blacks" is possibly the most recognisable song for Aboriginal and Torres Strait Islander people and will continue to be a beacon of power for the community.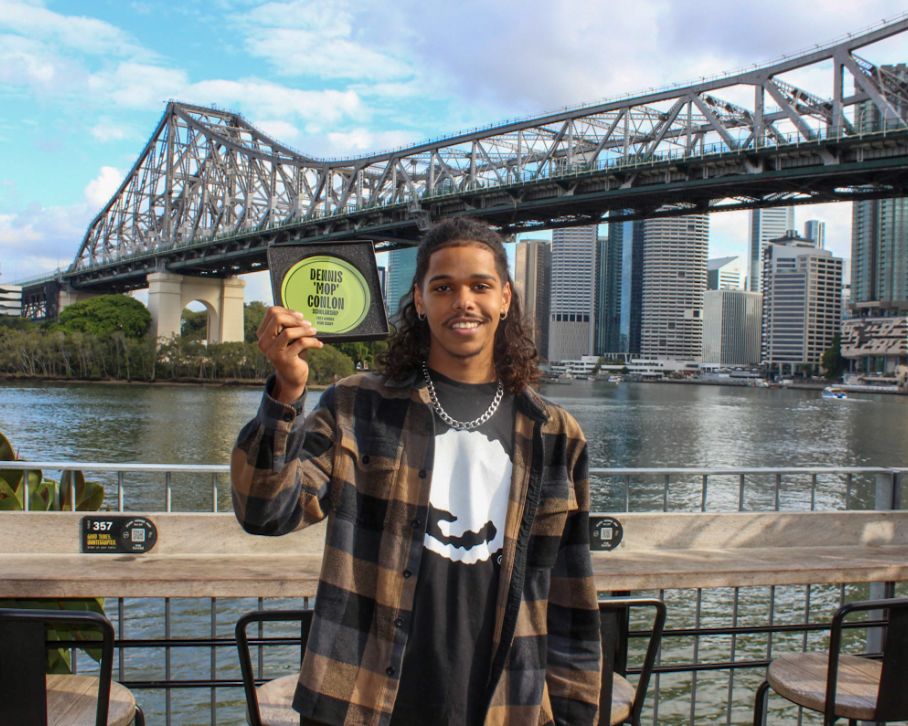 Dean Brady
2023 Recipient
"I am proud to be the first recipient of the Dennis 'Mop' Conlon Scholarship. I'd like to thank QMusic and Arts Queensland for this opportunity and for their support, it really means so much to me, and in years to come, will be such a great opportunity for many other First Nations artists and bands.

"Dennis 'Mop' Conlon was a legend and pioneer to all Aboriginal & Torres Strait Islander people, particularly to my father JUNGAJI who played his first ever gig in 1990 with Mop and the Dropouts but also their close affiliation with my Brady family in the SEQ regions. So, it is an absolute honour to be a recipient of this deadly scholarship and to have the opportunity to create new music, represent this legacy and showcase it to the world."
The Inaugural Dennis 'Mop' Conlon Scholarship is presented by QMusic, delivered in partnership with Triple A Murri Country 98.9FM and supported by the Queensland Government through Arts Queensland.